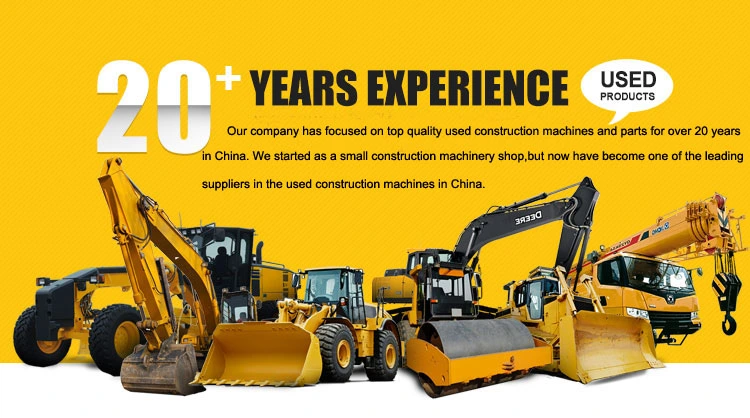 Used CAT D6D bulldozer, Used bulldozer CAT D6D
CAT D6D bulldozer
Original made in Japan
Good engine, strong power

Engine Make:Caterpillar
Model:3306
Gross Power :170 HP/126.8 kw
Displacement 640.7 cu in /10.5 L
Operating Weight :43682.4 lb /19814 kg
Fuel Capacity: 89 gal /337 L
Transmission Type: powershift
Number of Forward Gears:3
Number of Reverse Gears:3
Max Speed - Forward: 7 mph /11.3 km/h
Max Speed - Reverse: 8.9 mph /14.4 km/h
...


We also sell all other kinds of used construction machinery with high quality and competitive price: Used excavators, used bullldozers, used wheel loaders, used road rollers.
And other machines like forklifts, graders are also in stock. Please feel free to contact me for more details.

Used excavator
Hitachi ex100wd, ex120, ex200-1, ex200-2, ex200-3, ex200-5, ex200-6, zaxis200, zaxis200-3
Komatsu PC60-6, PC60-7, PC120-5, PC120-6, PC130-6, PC200-6, PC200-7
Cat cat307b cat312b cat320b cat320c cat330c
Hyundai 130LC-5, 200LC-5, 220LC-5
Daewoo doosan dh60-7, dh150-7, dh220-7, dh225-7
Used bullldozer
Catepillar d3c, d4h, d5h, d6c, d6d, d6h, d7g, d7h, d8K
Komatsu d85A-18, d85A-21, d115A-1, d85p
Used wheel loader
Catepillar cat936e, cat938f, cat950b, cat950f, cat966D, cat966e, cat966f
Komatsu wa300-1, wa320-1, wa320-3, wa360-3, wa380-3, wa400-1, wa450-1, wa470-1, wa470-3
Kawasaki kld65z, kld70b, kld80z, kld80z III, kld85z
Used road roller
Dynapac ca25 dynapac, ca30 dynapac
Bomag bw213D-2, bw217D-2, bw219d-2
And other machine like fork lift, graders are also in stock.
Anytime, anywhere please feel free to contact me for more detail

Contact details: