Liaoan(LLA)Track shoes are furnace, hardened, and tempered for strength and resistance to bending and breakage. Liaoning Liaoan Machinery Manufacturing Co,. Ltd. provide a variety of track shoe options to meet the requirements of your work environment.

1. Track shoe for bulldozer track
Materials

25MnB,25CrMnB

Hardness

HRC 42-49

Length

On request

Colour

Yellow and Black

Certification

ISO9001 : ISO14001 /CAT

Warranty

1200hours / One year

Delivery

10-15

days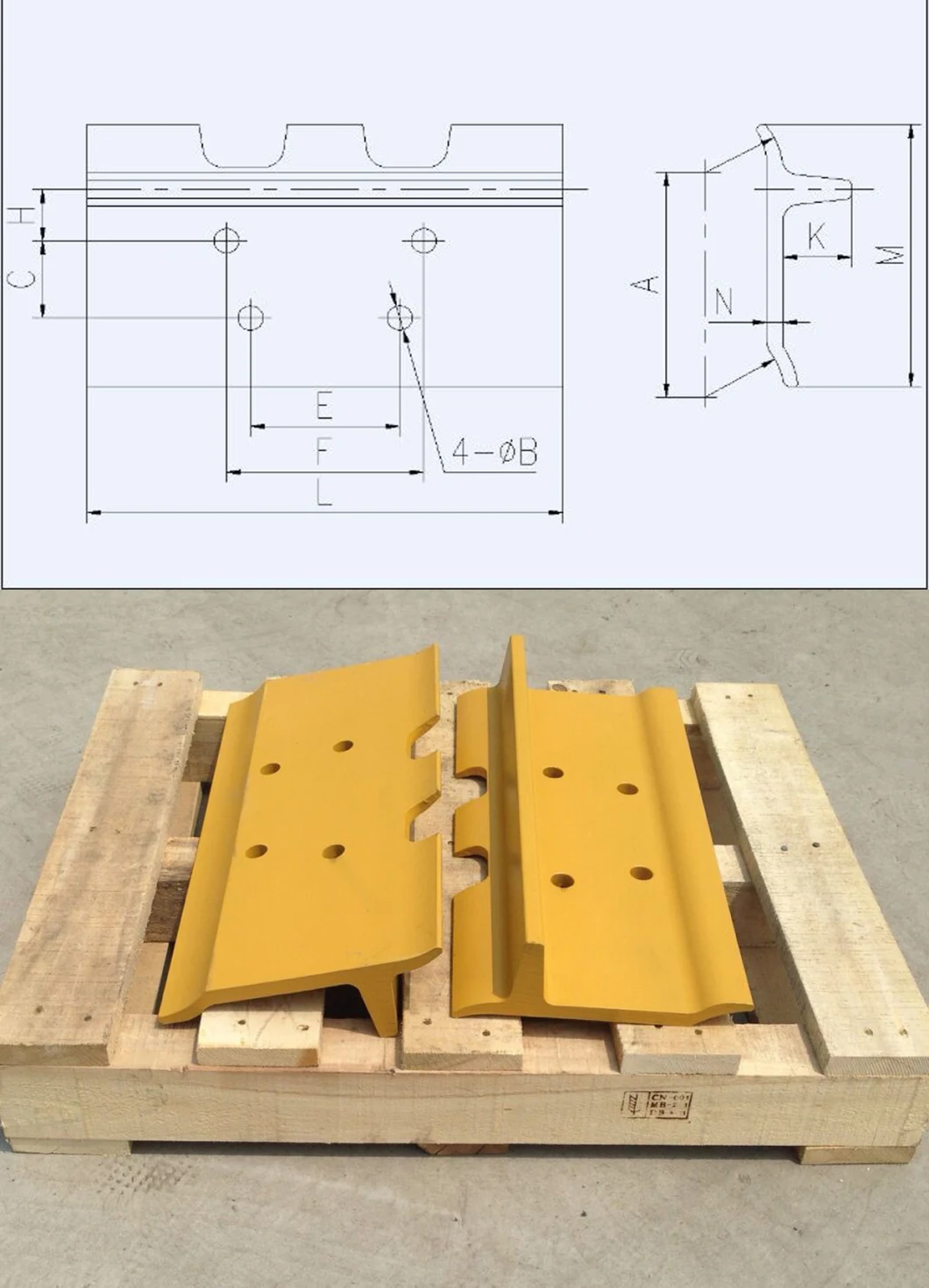 2.Product Model(part of)
Item No.
Series No.
weight
DIMENSION
Model
kg
A
B
C
D
E
F
H
S
K
L
M
N
1
171A-450
11.75
171
16.5
58.75
125.4
144.5
39
120
62
450
199.6
12
K907,T90,T100
2
171B-400
10.44
171
16.5
57
122.4
158.4
39
120
62
400
199.6
12
D50,D53,D58E,D41
3
171E-510
13.31
171
14.8

60.3
107.9
107.9
39
120
62
510
199.6
12
D4H,D4,D4C
4
203A-510
17.98
203
20.5

72.2
138.3
178.3
39
136.5
74
510
238
14
TY130,T140,T150,TY160 ,TBY160,D60,D65
5
203A-560
19.74
203
20.5
72.2
138.3
178.3
39
136.5
74
560
238
14
6
203A-610
21.50
203
20.5
72.2
138.3
178.3
39
136.5
74
610
238
14
7
203D-500
17.63
203
19.5

72.2
138.3
178.3
39
136.5
74
500
238
14
D60,D65
8
203E-560
19.74
203
19.5

76.2
133.3
171.3
39
136.5
74
560
238
14
D6D,D6C
9
203F-560
19.74
203
19.5

44.4
134.1
158.75
57
140
74
560
238
14
D6D MASTER SHOE
10
203F-610
21.50
203
19.5

44.4
134.1
158.75
57
140
74
610
238
14
11
203H-560
19.74
203
20.5

68
137.3
185.3
41
140
74
560
238
14
D65,D6H D6R
12
216A-610
24.89
216
20.5

76.2
146
184
42
146
86.3
610
252.3
14.3
D80,D85,TY220 D7G D85A-18
13
216D-610
24.89
216
19.5

76.2
146
184
42
146
86.3
610
252.3
14.3
D7G D7F D7E
14
216E-610
24.89
216
19.5

74.62
154.9
199.39
42
146
86.3
610
252.3
14.3
TD20
15
216H-560
22.85
216
19.5
76.2
19.5
146
184
42
146
86.3
560
252.3
14.3
D7G MASTER SHOE
16
216N-560
22.85
216
19.5

63
146.1
204.1
47.3
146
86.3
610
252.3
14.3
D7G D7H D7F
17
228A-560
28.34
228.6
24.5
76.2
169
219.8
48
160
97
560
268
17
D155,D150,TY330,TY320B,DGY70
18
228C-560
28.34
228.6
23.8
76.2
169.3
201.1
48
160
97
560
268
17
D8H,D8K
3. Company Information
1. Liaoning liaoan Machinery Manufacturing Co.ltd was founded in 1998, located in liaoyang city ,liaoning province. It is the earlist professional track shoe manufacturer in China. Our annual production capacity is 100, 000 tons, which includes 80,000 tons of heat treatment. So far, we have developed 45 types of profiles and more than 400 kinds of track shoes for single grouser, double grouser and triple grouser.
2. Suzhou lianan Machinery CO.ltd was founded in 2009, located in Changshu city, Jiangsu province, with 673k sq.ft occupied area and 318K sq.ft building area. It has joint-venture with Caterpillar the united states in May 2013, now it is the world-class full automatic track shoe manufacturer in China. Annual production capacity is 200,000 tons with caterpillar advanced quenching process and laboratory in leading level of the world. It is the factory to produce track shoes of heavy bulldozer and excavator.
4. ISO9001&ISO1400 Certificate of Liaoan.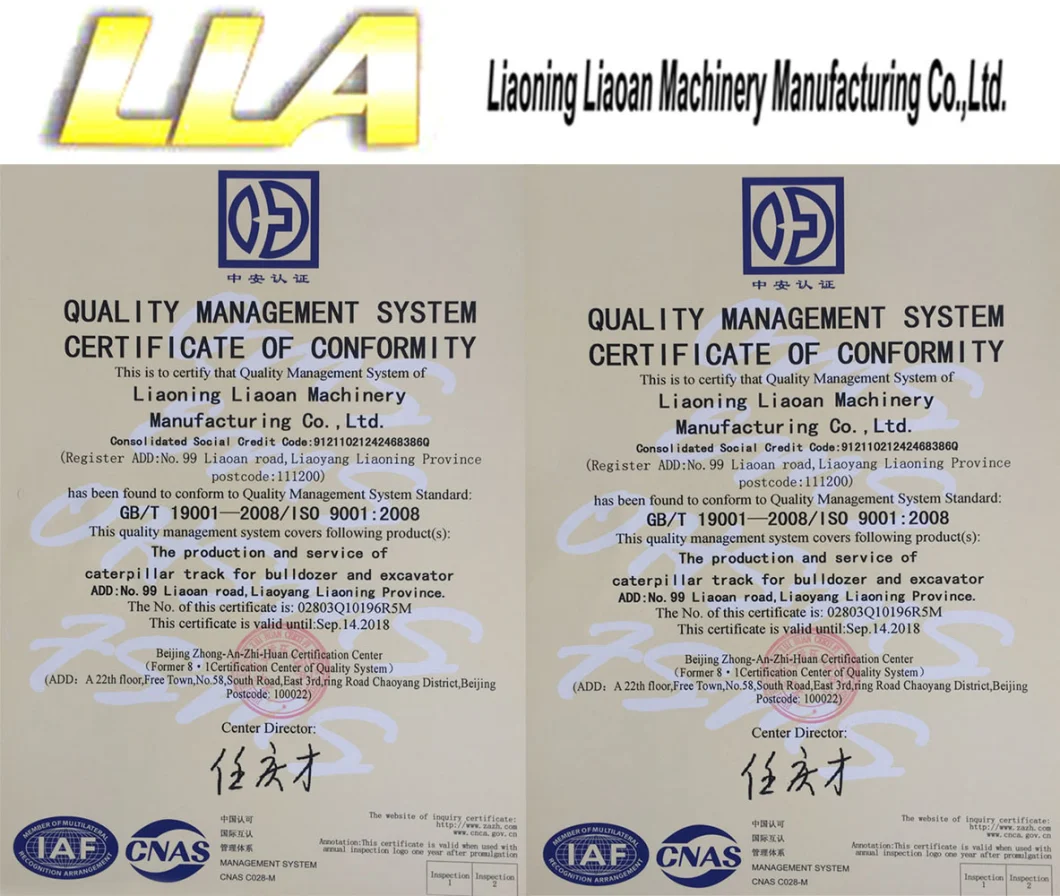 5. Excavator Track shoe

for Komatsu, Caterpillar, Volvo, Doosan, Hyundai etc.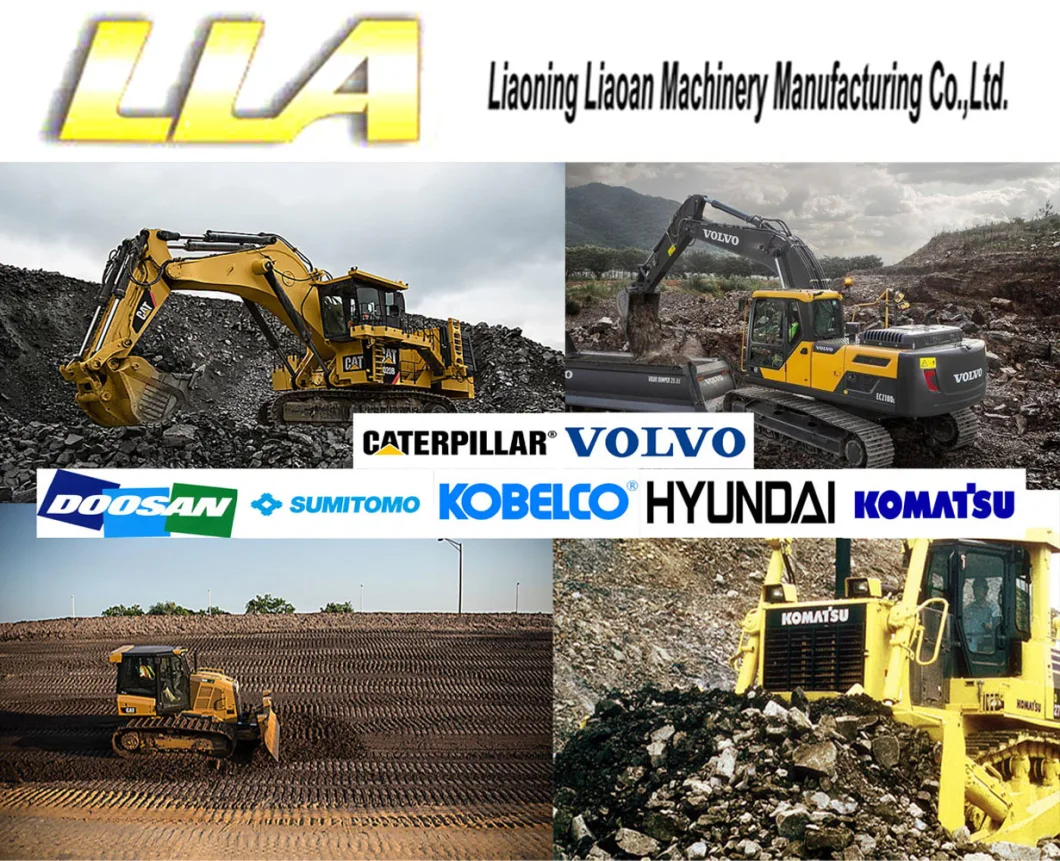 6. Company overview for LLA--- Professional track shoe partner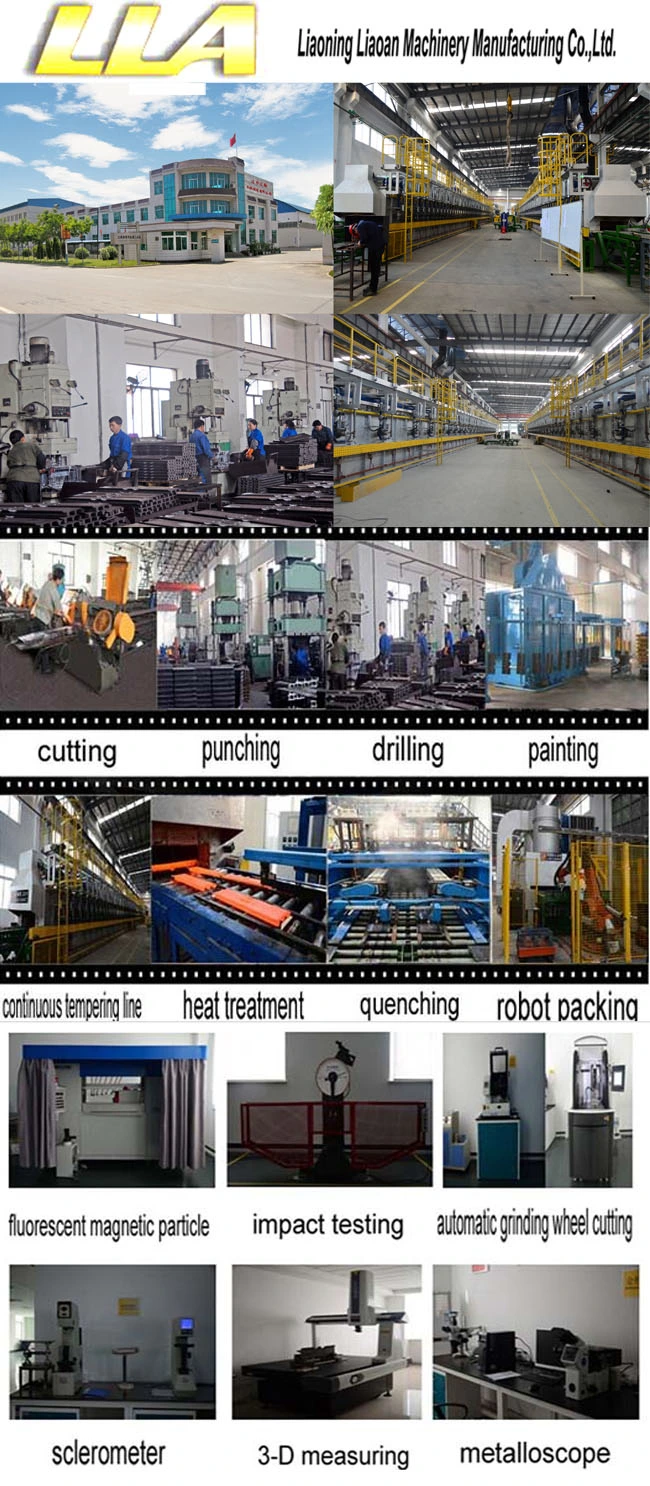 7. Track shoe faster delivery solution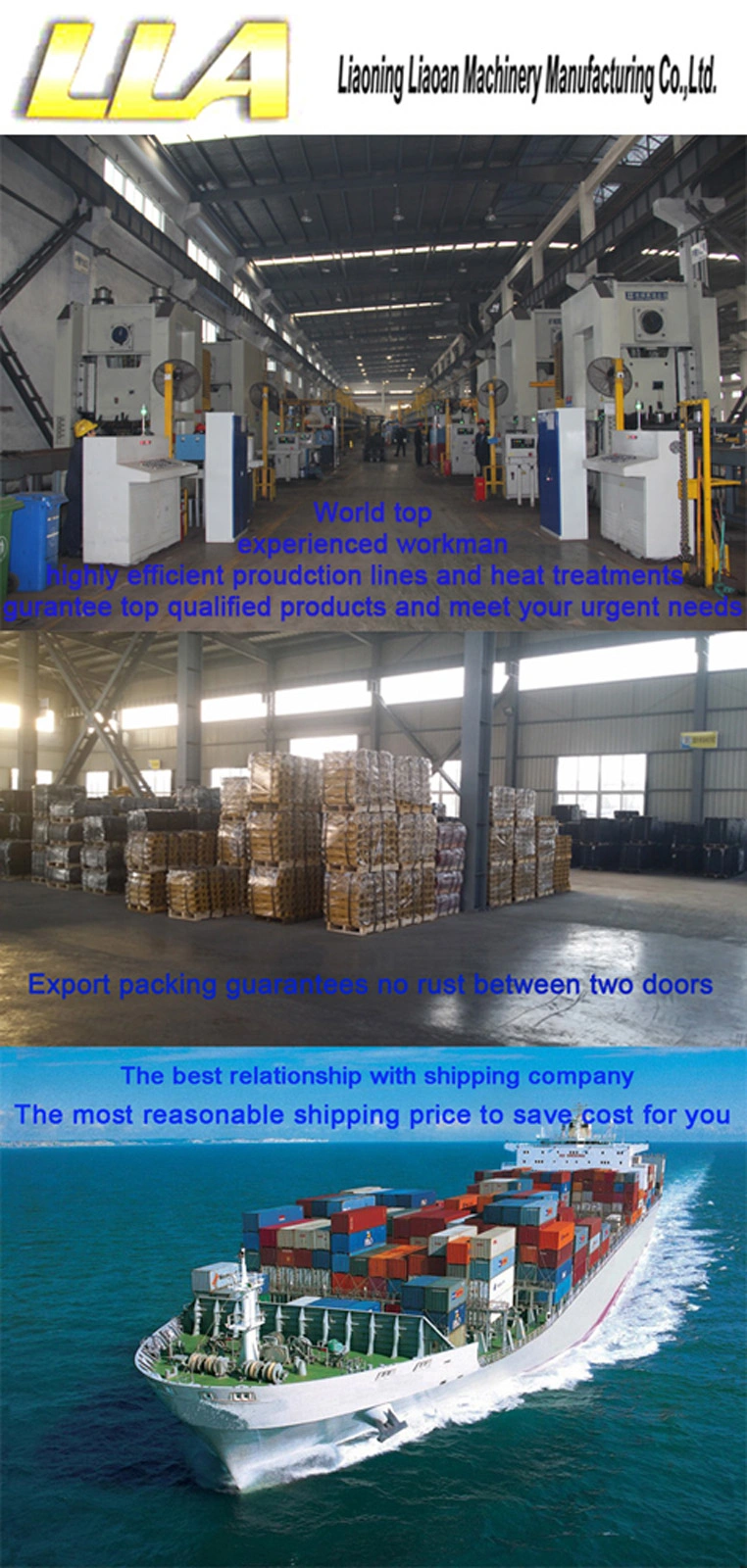 Track shoe from view of globalization