Shantui SD22 220hp Coal Crawler Bulldozer D7 bulldozer for Sale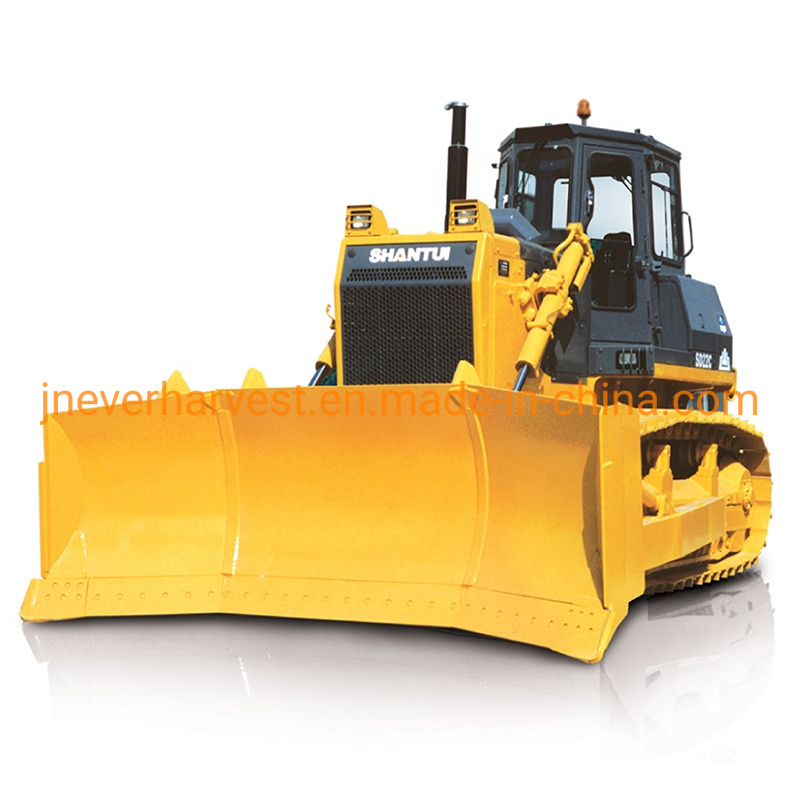 SD22C coal bulldozer is researched and developed in response to the demands of special engineering environments and is suitable for the operations of bulk materials in power plants and ports.
Technical Features
It's an essential large mechanical equipment for the bulk material operation sites, including power plants and large ports.
The standard coal blade features super-large capacity and super-high productivity and durability to handle the high strength workload in power plants and ports and the outstanding durability of the blade
Performance parameters
| | |
| --- | --- |
| Length × width × height (mm) (excluding ripper) | 6060x4200x3745 |
| Operating weight(t) (excluding ripper) | 24 |
| Engine model | WD12G240E206/ NT855-C280S10 |
| Net power/rated speed (kW/rpm) | 162/1800 |
| Ground pressure(Mpa) | 0.077 |
| Blade type | Coal blade |
| Blade capacity(m3) | 9m3 |
Applicable working conditions: Operations of bulk materials in power plants and ports.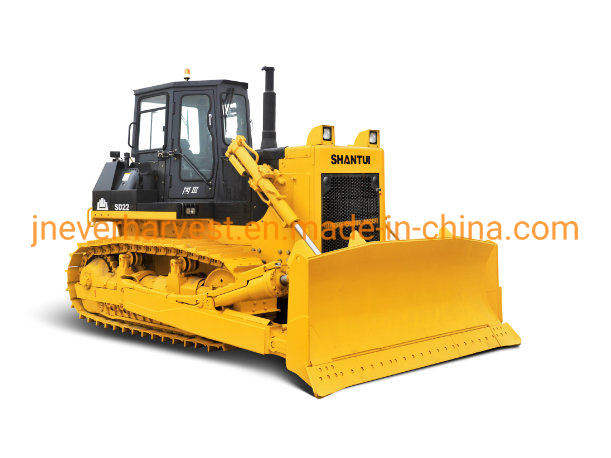 Shantui's best-seller worldwide, this is a medium-duty workhorse that comes off the factory line in various configurations for specific work environments, e.g. desert, swamp, forest, high altitude, etc.The SD16 provides high performance with strong reliability, with Shantui's trademark value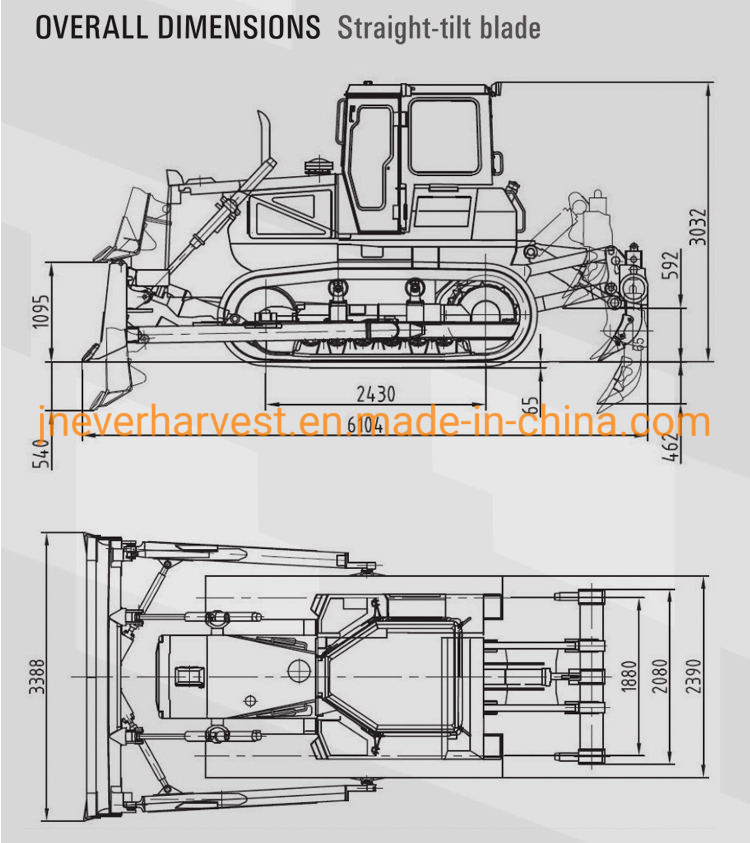 CHARACTERISTIC of Shantui BULLDOZERS
The installed WP10 electronically controlled engine conforms to the China-III non-road machinery emission regulation, featuring strong power, high efficiency and energy-saving, and low maintenance cost.
The rated power reaches 131kW, featuring high torque reserve coefficient.
The radially sealed intake system is applied to effectively prolong the engine life.
The curves of drive system and engine are perfectly matched to achieve more extensive high-efficiency zone and higher transmission efficiency.
Shantui's self-made drive system features stable performance and reliable quality and has been long proved by the market.


Driving/Riding Environment
The hexahedral cab provides super-large interior space and broad vision and the ROPS/FOPS can be installed depending on specific needs to ensure high safety and reliability.
The electronic control hand and foot accelerators guarantee more accurate and comfortable operations.
The intelligent display and control terminal and the A/C and heating system are installed to provide more abundant personalized driving/riding experience and enable you to understand system status at any time, featuring high intelligence and convenience.

Shantui's stable and reliable chassis system is applicable to diversified severe working conditions.
The product features long ground length, high ground clearance, stable driving, and good trafficability.
The straight tilting blade, U-blade, angle blade, coal blade, rock blade, environmental sanitation blade, ripper, and traction frame can be installed depending on specific working condition to achieve higher working adaptability. The optional LED working lamps improve the illumination capability during nighttime operations to achieve higher safety and reliability.
Easy maintenances
The structural parts inherit the excellent quality of Shantui's mature products;
The electric harnesses adopt corrugated pipes for protection and deconcentrators for branching, featuring high protection grade.
The openable large-space side hoods make the repairs and maintenance easier.
The fuel filter element and the air filter are designed on one same side to achieve one-stop
PARAMETER OF SD22 BULLDOZER
| | | | | | | | | |
| --- | --- | --- | --- | --- | --- | --- | --- | --- |
| rameter name | SD22 (Standard version) | SD22C (Coal version) | SD22W (Rock version) | SD22F (Forestry version) | SD22D (Desert version) | SD22E (Extended version) | SD22R (Environmental sanitation version) | SD22S (Wetland version) |
| Performance parameters | | | | | | | | |
| Operating weight (Kg) | 23450 | 24000 | 23600 | 24700 | 24600 | 24600 | 26000 | 25700 |
| Ground pressure (kPa) | 66 | 57.5 | 66 | 64 | 56 | 66 | 36 | 35.2 |
| Engine | | | | | | | | |
| Engine model | WP12/QSNT-C235 | WP12/QSNT-C235 | QSNT-C235 | QSNT-C235 | QSNT-C235 | QSNT-C235 | WP12/QSNT-C235 | WP12/QSNT-C235 |
| Rated power/rated speed (kW/rpm) | 175/1800 | 175/1800 | 175/1800 | 175/1800 | 175/1800 | 175/1800 | 175/1800 | 175/1800 |
| Overall dimensions | | | | | | | | |
| Overall dimensions of machine (mm) | 5495*3725*3402 | 5820*4200*3402 | 5495*3725*3402 | 5495*3725*3402 | 5495*3725*3402 | 5495*3725*3402 | 6290*4365*3745 | 6290*4365*3402 |
| Driving performance | | | | | | | | |
| Forward speed (km/h) | F1:0-3.6 F2:0-6.5 F3:0-11.2 | F1:0-3.6 F2:0-6.5 F3:0-11.2 | F1:0-3.6 F2:0-6.5 F3:0-11.2 | F1:0-3.6 F2:0-6.5 F3:0-11.2 | F1:0-3.6 F2:0-6.5 F3:0-11.2 | F1:0-3.6 F2:0-6.5 F3:0-11.2 | F1:0-3.6 F2:0-6.5 F3:0-11.2 | F1:0-3.6 F2:0-6.5 F3:0-11.2 |
| Reversing speed (km/h) | R1:0-4.3 R2:0-7.7 R3:0-13.2 | R1:0-4.3 R2:0-7.7 R3:0-13.2 | R1:0-4.3 R2:0-7.7 R3:0-13.2 | R1:0-4.3 R2:0-7.7 R3:0-13.2 | R1:0-4.3 R2:0-7.7 R3:0-13.2 | R1:0-4.3 R2:0-7.7 R3:0-13.2 | R1:0-4.3 R2:0-7.7 R3:0-13.2 | R1:0-4.3 R2:0-7.7 R3:0-13.2 |
| Chassis System | | | | | | | | |
| Center distance of track (mm) | 2000 | 2000 | 2000 | 2000 | 2000 | 2000 | 2250 | 2250 |
| Width of track shoes (mm) | 560/610/660 | 660 | 560/610/660 | 610/660 | 660 | 560/610/660 | 910 | 910 |
| Ground length(mm) | 2730 | 2730 | 2730 | 2730 | 3050 | 3050 | 3480 | 3480 |
| Tank capacity | | | | | | | | |
| Fuel tank (L) | 450 | 450 | 450 | 450 | 450 | 450 | 450 | 450 |
| Working device | | | | | | | | |
| Blade type | Straight tilting blade , Angle Blade, U-shaped Blade and Semi-U blade | Coal blade | Rock straight tilting blade, rock angle blade, rock U-blade, and rock semi-U blade | Straight tilting blade , Angle Blade, U-shaped Blade and Semi-U blade | Straight tilting blade , Angle Blade, U-shaped Blade and Semi-U blade | Straight tilting blade , Angle Blade, U-shaped Blade and Semi-U blade | Sanitation blade | Straight tilting blade |
| Digging depth (mm) | 540 | 538 | 540 | 540 | 540 | 540 | 550 | 550 |
| Ripper type | Single-shank three-shank | Single-shank three-shank | Single-shank three-shank | Single-shank three-shank | Single-shank three-shank | Single-shank three-shank | -- | -- |
| Ripping depth (mm) | 695 (Single-shank) and 666 (Three-shank) | 695 (Single-shank) and 666 (Three-shank) | 695 (Single-shank) and 666 (Three-shank) | 695 (Single-shank) and 666 (Three-shank) | 695 (Single-shank) and 666 (Three-shank) | 695 (Single-shank) and 666 (Three-shank) | -- | -- |
Package and Shipping of Shantui Dozer/Bulldozer