new high condition SHANTUI SD13 320hp small mini crawler bulldozer
SD22 series bulldozer adopts Shantui's patented technologies, including central lubrication, central pressure measurement, and automatic track tensioning technologies, and won the sole national golden quality award in China's bulldozer industry. With multiple working devices and cabs, this product can meet the operation demands for diversified working conditions and is an ideal high-efficiency machine for earth-moving operations and bulk material handling.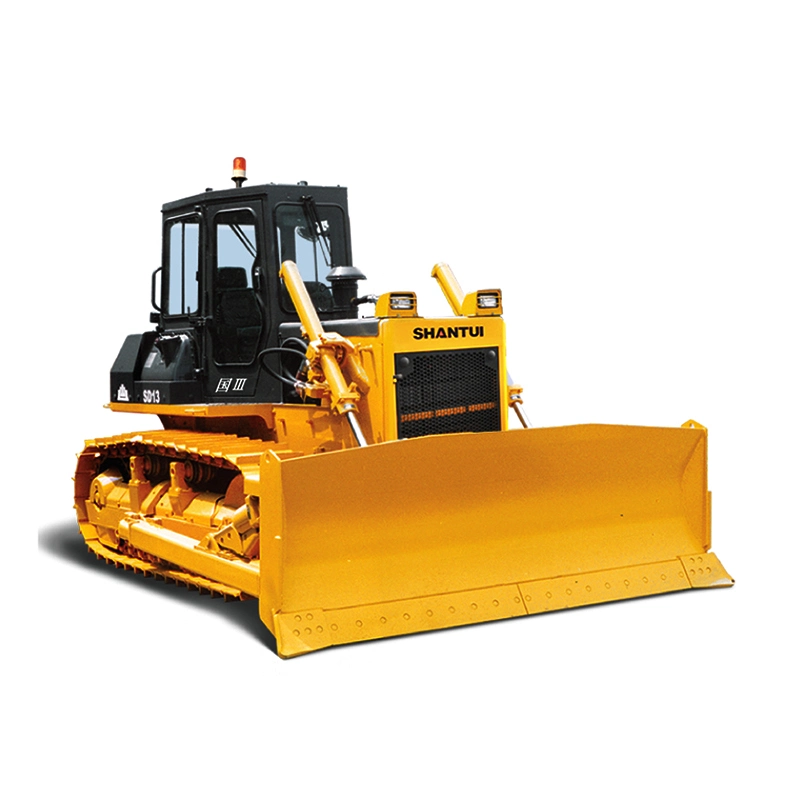 I. Parameter
| | |
| --- | --- |
| Ground pressure(Mpa) | 0.065 |
| Min. Turning radius(mm) | 3300 |
| Gradeablity (°) | 30 |
| Engine Model | Chongfa NT855-C280S10 |
| Rated horsepower(Kw) | 162 |
| Torque Converter | Torque converter 3-element 1stage 1phase |
| Transmission | Planetary gear, multi disc clutch hydraulically connected forced lubuication |
| Forward(km/h) | 1st 0-3.6 2nd 0-6.5 3rd 0-11.2 |
| Reverse(km/h) | 1st 0-3.6 2nd 0-6.5 3rd 0-11.2 |
| Carrier rollers | 2 each side |
| Track rollers | 6 each side |
| Track type | Assembled single -grouser |
| Width of track shoes(mm) | 560 |
| Maximum pressure(MPa) | 14 |
| Dozing capacity (m³) | 6.4 |
| Blade height(mm) | 1315 |
| Max. Drop below ground(mm) | 540 |
| Ripper type | 3-shank ripper |
| Max. Digging depth (mm) | 666 |
| Overall dimensions(mm) | 6790*3725*3480 |
II. Selling Points
1. Chongfa NT855-C280S10 engine features strong power and high efficiency and energy-saving.
2. The high-reliability power shift transmission, stable hydraulic torque converter, and two-stage spur gear final drive feature high power transmission efficiency.
3. The engine can run normally and reliably under all load conditions and all hot environments required by the user, without overheating.
4. It can realize the automatic diagnosis and whole-process monitoring of the malfunctions. The integrally injection molded instrument panel integrates the A/C, electric devices, and instruments, featuring beautiful appearance and high grade.
5. The full box-type main frame with application of high performance materials and high strength castings features high carrying capacity against impact load and bending moment and the high quality welds guarantee the life cycle of the main frame.
6. The semi-rigid suspension traveling system increases the ground area of tracks and improves the traction force of vehicle.
7. The ergonomically designed driver seat and armrests can be adjusted easily in vertical and longitudinal directions. The gearshift, steering, and accelerator controls are arranged on the left side with the adoption of flexible shaft structure. The working device controls are arranged on the right side with adoption of servo control system to achieve lighter and more flexible operations and relieve the operating fatigue.
8. The standard straight tilting blade features powerful cutting force to handle diversified severe working environments and the large single-shank ripper of adjustable penetrating angle can be used for the ripping of clay and frozen earth as well as the stripping of hard working faces, such as gravel and hardened salt mine.
III. Our Company