Excellent Working Condition Shantui SD32 320HP Crawler Bulldozer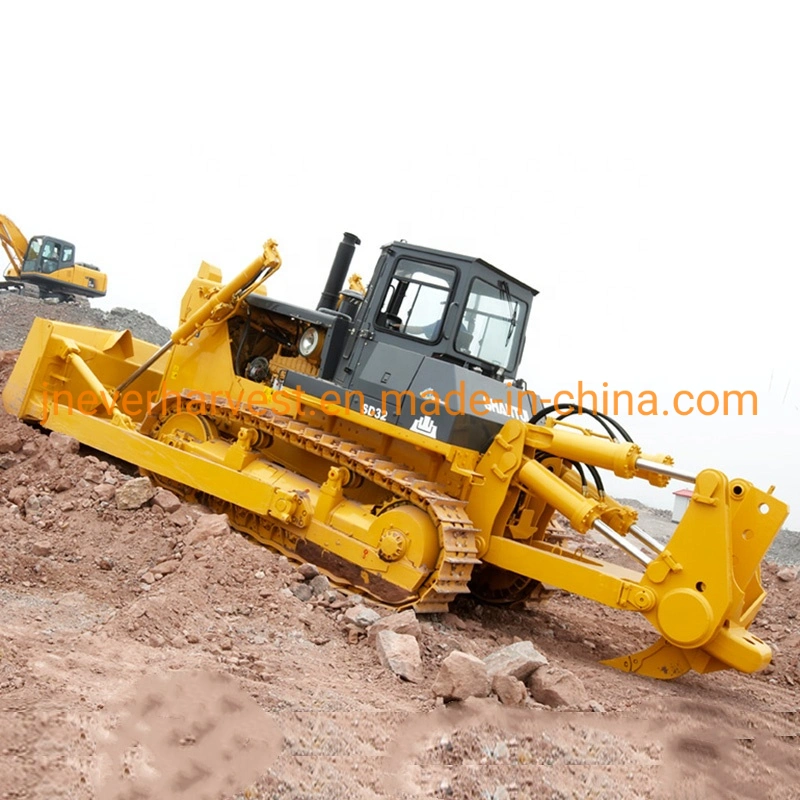 PARAMETER OF SD32 BULLDOZER
Engine

Model & type

Cummins NTA855-C360S10; In-line, water-cooled; 4-cycle,




overhead valve direct injection, turbocharged diesel

Rated revolution

2000 rpm

Horsepower

Gross power: 257/345/2000 kW/HP/rpm //




Net power: 235/320/2000 kW/HP/rpm

Number of cylinders

6-139.7 x 152.4 (mm x stroke)

Piston displacement

14010 ml

Min. fuel consumption

245 g/kW·h

Maximum torque

1440 N·m@1400rpm

Power

transmission

system

Torque converter

3-element, 1 stage, 1 phase

Transmission

Planetary gear, multi-disc clutch, power shift,

forced lubrication

Main drive

Spiral bevel gear, splash lubrication,

single-stage speed reduction

Steering clutch

Wet, multi-disc, spring loaded,

hydraulically separated, hydraulic control

Steering brake

Wet, floating band, foot brake with hydraulic booster

Final drive

2-stage speed reduction of spur gear, splash lubrication

Travel speed

Gear

1st

2nd

3rd

Forward

0~3.6 km/h

0~6.6 km/h

0~11.5 km/h

Reverse

0~4.4 km/h

0~7.8 km/h

0~13.5 km/h

Undercarriage




system

Type

Swing type of sprayed beam, suspended structure of equalizer bar

Carrier rollers

2 each side

Track rollers

7 each side (single flange 5, double flange 2)

Track type

41 each side

Width of track shoes

560 mm

Pitch

228.6 mm

Hydraulic




System

Maximum pressure

14 MPa

Pump type

Gear pump

Discharge

(at revolution of 2000 rpm)

355 (1795 rpm) L/min

Bore of working cylinder ×

no. (double-acting type)

140 mm × 2

Blade

Blade Type

Straight-tilt

Angle

Semi-U blade

Dozing capacity

10 m 3

6 m 3

11.9 m 3

Efficiency




(Theoretical value 40 m)

580 m 3 /h

350 m 3 /h

690 m 3 /h

Blade width

4130 mm

5000 mm

4130 mm

Blade height

1590 mm

1140 mm

1710 mm

Maximum drop below ground

560 mm

630 mm

560 mm

Maximum tilt adjustment

1000 mm

500 mm

1000 mm

Weight of blade

4520 kg

4932 kg

4924 kg

Riipper




(Optional)

Maximum digging




depth of 3-shank ripper

842 mm

Maximum lift above ground

883 mm

Weight of 3-shank ripper

3802 kg

Maximum digging




depth of single ripper

1250 mm

Maximum lift above ground

965 mm

Weight of single ripper

3252 kg
Technical Features of Shantui SD32 Bulldozer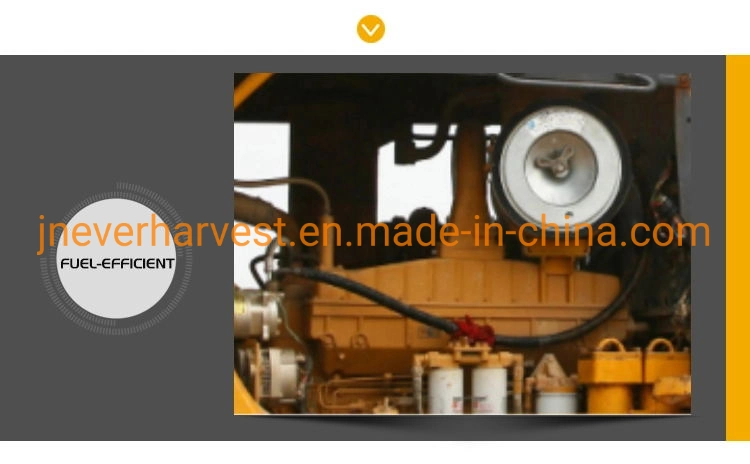 Chongfa NTAA855-C360S10 engine is equipped with exhaust gas turbocharger, featuring strong power and high efficiency and energy-saving, and can work normally even in the highlands as high as 3,600m. Depending on the customers' demands, the option Cummins and Weichai engines are available.
The high reliability power shift transmission, the stable hydraulic torque converter, and two-stage spur gear final drive feature high power transmission capacity and efficiency and high productivity.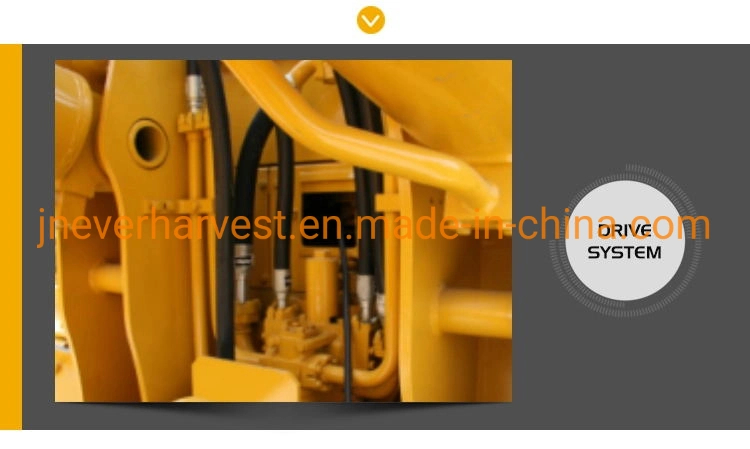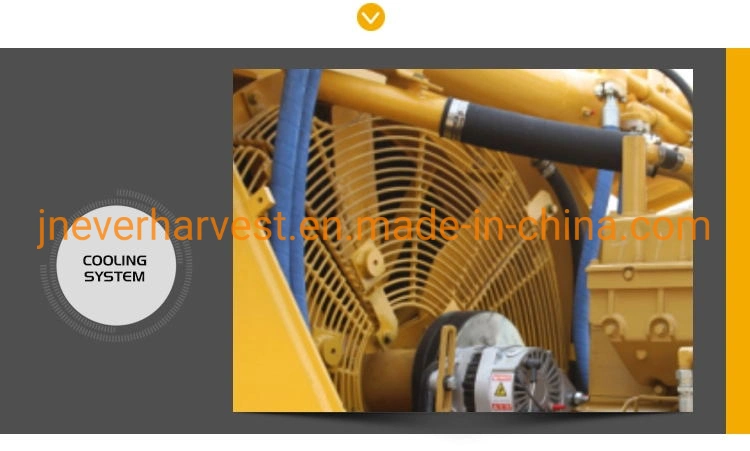 The independent engine water tank, the chassis oil cooler, and the water-air intercooler integrated in the Chongfa engine provide prominent cooling performance and simple maintenance operations to guarantee the continuous working of the machine.
The full box-type main frame with application of high performance materials and high strength castings features high carrying capacity against impact load and bending moment to support the continuous high-strength working of machine under severe working condition and the high quality welds guarantee the life cycle of the main frame.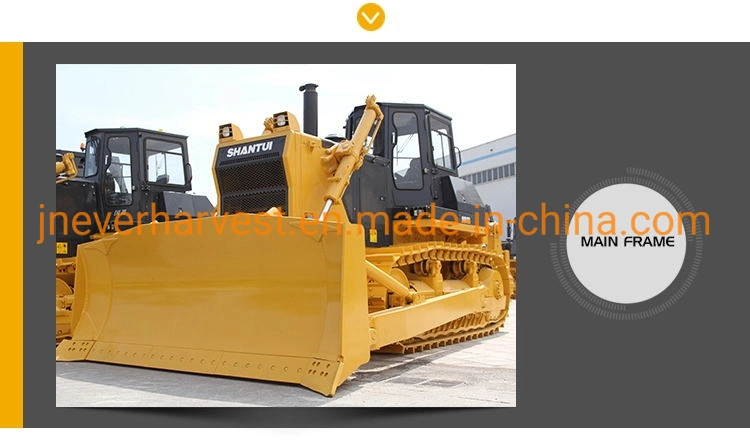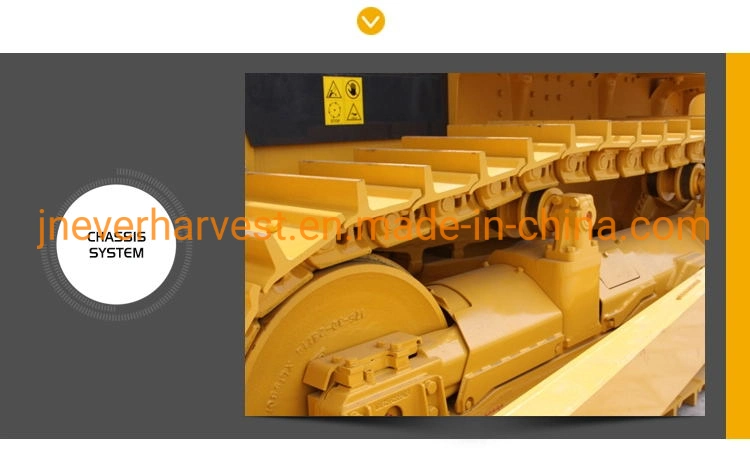 The low-drive final drive can provide powerful drive force and efficient gradeability. Shantui's crawler chassis has reached the international advanced level in process level and can adapt to various complicated working conditions, featuring high reliability and carrying capacity.
The standard straight tilting blade features powerful cutting force and the single-shank and three-shank rippers of adjustable penetrating angle can be used for the ripping of clay and frozen earth as well as the stripping of hard working faces, such as gravel and hardened salt mine.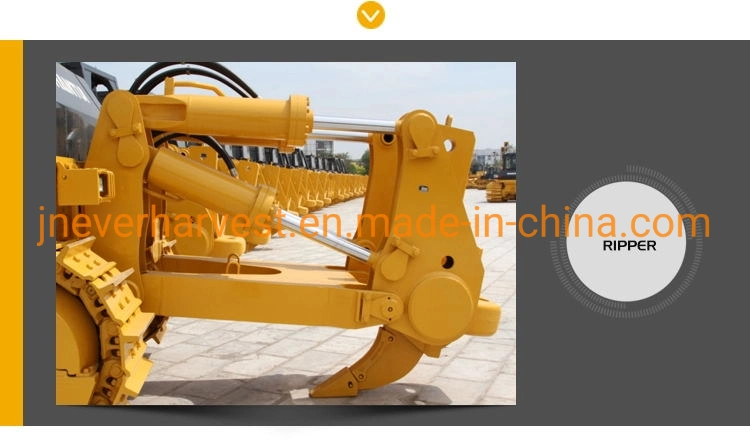 Working Conditions
In various configurations for specific work environments, e.g., desert, swamp, forest, high altitude, etc.