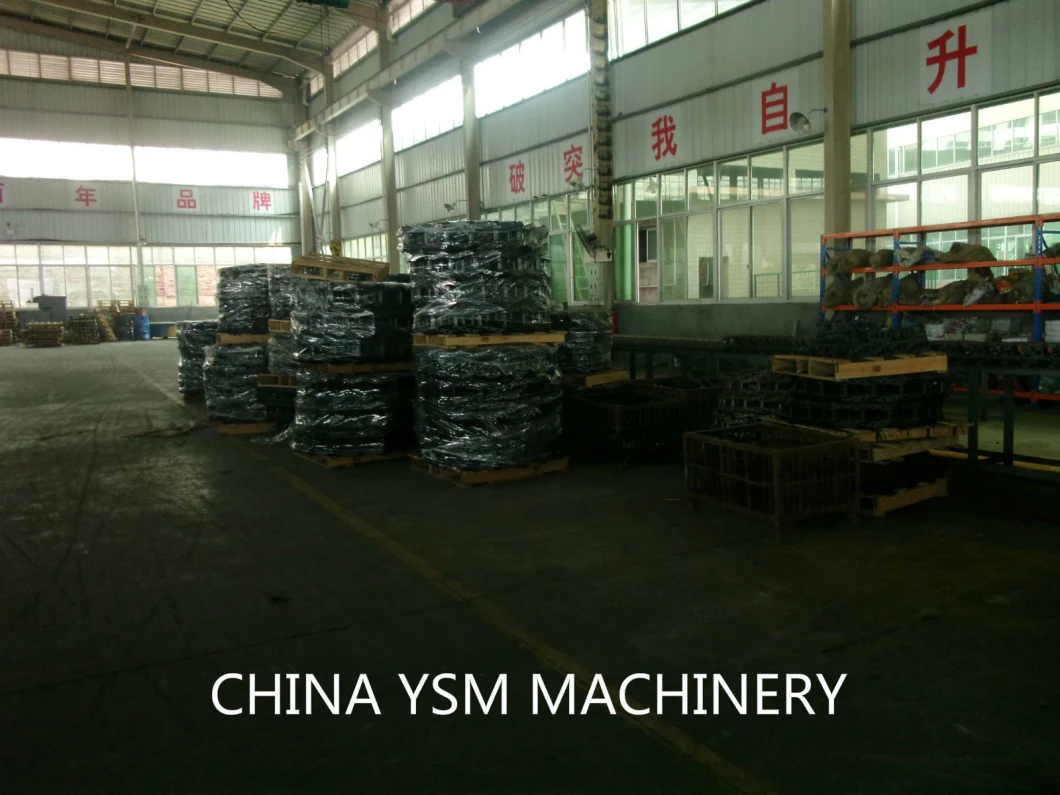 Track link assembly for excavators and bulldozers
Material: 40MnB
Finish: Smooth
Colors: Black or yellow
Technique: Forging casting
Surface Hardness: HRC50-56,deepth:4mm-10mm
Warranty time: 2000 working hours
MOQ: 2 piece
Delivery Time: Within 30 days after contract established
Abrasion resistance and Crack resistance
Deep Sension Hardened tread
Package : wood pallet
?
?
Feature:
Manufactured with superior quality raw material
Durable
Enhance the efficiency of products in which they are used
Low maintenance cost
Reasonable Prices
?
Infrastructure:
We are backed with a technical sound infrastructure that facilitates us to deliver optimum quality products to our clients. We have a well-equipped infrastructure that includes latest machinery and tools, which assists us to meet the requirements of our clients. The entire manufacturing process and packaging of our products are supervised by the experts.
Workforce:
We have a team of skilled professionals and labors efficient in their works and facilitate us to deliver superior quality products to our clients. Apart from that, our team works in co-ordination in order to meet the bulk orders of our clients on time.
Quality Commitment:
We have a team of experts that supervises the quality of products on all levels, i.e. from the procurement of raw materials to the final stage of production. Thus, we offer a quality range of products with 100% guarantee.
?
The models below are just for reference,many models we can't list here,we can supply the most models in the market.Kindly send us your inquiry or email if you have any requirements.
Komatsu
PC20 PC30 PC30 PC40-5 PC40-6 PC40-7 PC50 PC60-1 PC60-3 PC60-5/6 PC60-7 PC75 PC80 PC100-5 PC120-2 PC200-1 PC200-2 PC200-3 PC200-5/6 PC220-3 PC200-7 PC240-3 PC300-5/6 PC300-7 PC350 PC400-5/6 PC650 PC1000-1
Hitachi
UH045 UH052 UHO53 UH063 UH07-5 UH09-7 UH04-7 UH083
EX20UR-1/2 EX30 EX40-1 EX45-1 EX50UR EX60-5 EX70 EX90 EX100 EX100-M EX120 EX150 EX200 EX200-1 EX200-2/3/5 EX220-1/3 EX220-2 EX300EX300-3 EX300-5 EX320/321 EX330 EX350 EX400 EX400-5 EX550 EX350 EX700 EX750-5 EX1100
ZAXIS50 ZAXIS55 ZAXIS230 ZAXIS240 ZAXIS270 ZAXIS330 ZAXIS360
FH220-3 FH220-3 FH330
Caterpillar
E70B CAT307/308 E120B E180 E200B E215 E215 CAT215BLC CAT225 CAT225D CAT225DLC CAT235 CAT235DLC E240 E240B CAT311 CAT312 CAT313SR E300 E300B E300D E320B E320C CAT322 CAT325 CAT325LN E330 E330B CAT330LN CAT345 CAT350 E450
Sumitomo
LX02/03 LX08 SH60 SH75-3 SH100 SH120 SH200 SH220 SH250 SH260 SH280 SH300 SH340 SH580 SH450 LS200 LS200 LS280 LS1200 LS1600 LS2035 LS2050L LS2650 LS2800 LS2800FJ2 LS3400EJ LS4300FJ2 LS5800C2 SC800 SC1000
Kobelco
K903 K904B K904 C K907B K907C K907D SK07 SK027 SK04N2 SK07N2 SK09N2 SK60 SK100 SK120 SK120LC SK200 SK200-6 SK220 SK230 SK235 SK300 SK310 SK320 SK330-6 SK350 SK400
Volvo
EC55 EC210-7 EC240 EC290 EC360 EC460
Daewoo
DH55 DH220-3/5 DH220LC DH280-2 DH280-3 DH320 DH330 DH360
Hyundai
R60 R60-5 R60-7 R130 R200 R210 R220 R290 R290LC-7 RX300 R305 R320 R914B
Kato
HD250 HD400-2 HD400-5 HD450 HD700 HD770 HD820 HD880-1 HD1250 HD1880
Mitsubishi
MS40 MS70-8 MS110-8 MS120 MS180-3 MS240 MS300-8
Bulldozer
D20 D30 D31 D3B D3C D3D D40-1 D4C D4D D4H D5 D50 D5B D5H D5M D6B D6C D6D D6H D6R D65 D7 D7E D7F D7G D7R D80 D85-12 D85-18 D8L D8G D8H D8K D8N D8R D9L D9N D155 D155A-1 D155AX D275 D355 D355A-3 D375-2/3