SWD7S Bulldozer Main Advantages
Equipped with 230 horsepower Cummins engine, elevated sprocket bulldozer integrate with modular design is easy to repair & maintenance, It relieves oil with difference pressure, the hydraulic system performs protecting environment and save energy with high working efficiency. Safety comfortable operation condition, electric monitoring and ROPS cabin with reliable entire quality, excellent service is your wise choosing.
It can be equipped with straight tilting blade, angle blade, coal pushing blade, U shape blade; Single shank ripper, three shanks ripper; ROPS, FOPS, forest defence cabin etc...It is can ideal machine used in communication, oil field, power, mining etc. Large earth moving program.
With the maturest technology introduced, Sinoway offers both flat design track dozers as Komatsu and elevated track bulldozers as Caterpillar. As a supplement, Sinoway provide also wheeled bulldozer for your application which crawler dozers are not allowed. From a wide horsepower range of 80HP to 430HP, with various blade types and attachments available, the last thing now is just selecting the right bulldozer for your application.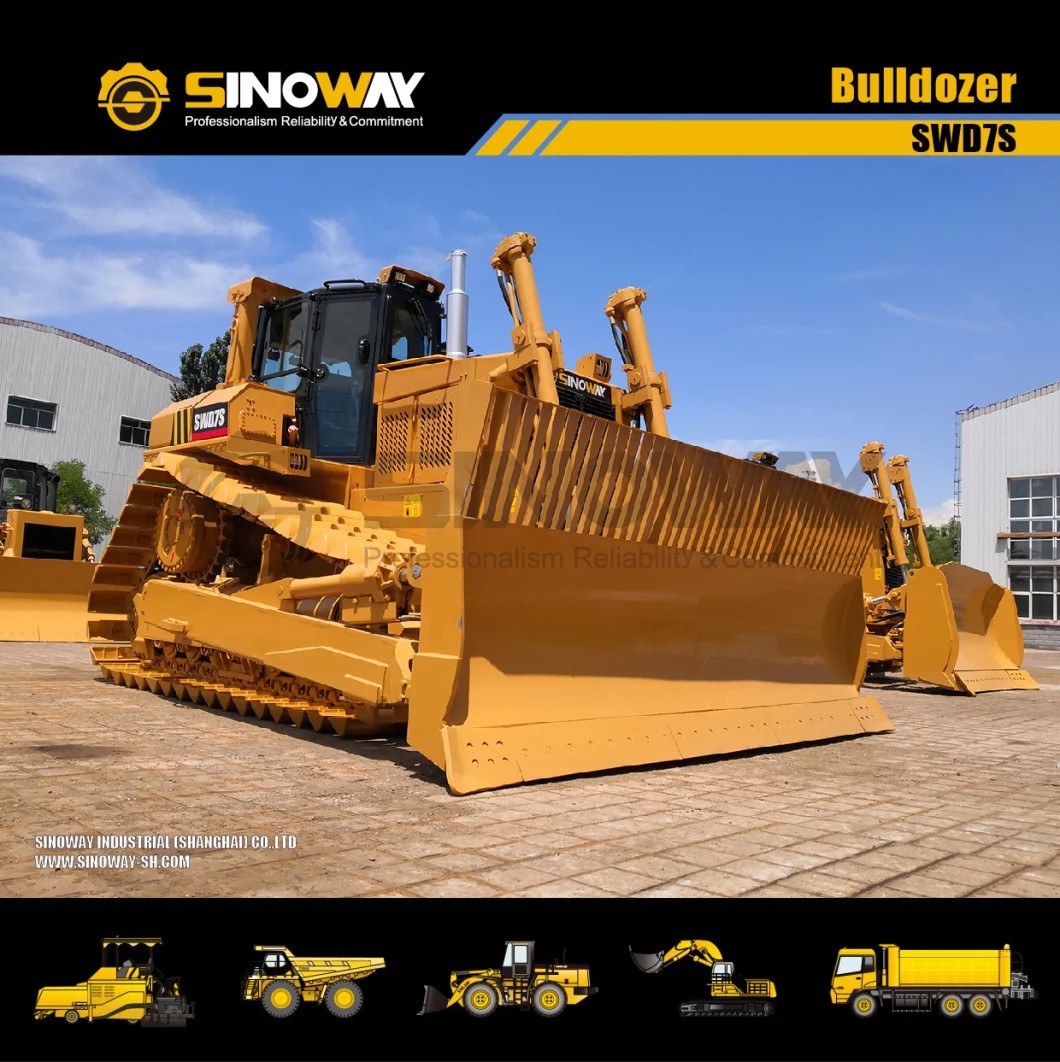 Engine

Model

Cummins

Type

Six-cylinder,water-cooled
turbocharged,mechanical injection

Rated power

169KW

Rated speed

1800rpm

Implement Hydraulic System

Hydraulic flow rate

194L/min

Hydraulic pressure

18.6MPa

Pump type

High pressure gear pump

Control valve

Hydraulic operated pilot control

Under Carriage System

Sprocket

Elevated

Number of track rollers (each side)

7

Number of carrier rollers (each side)

(4 single, 3 double)

Number of front idler (each side)

12

Track type

Single grouser

Track tension

Hydraulic

Track pitch

220mm

Track width

760mm

Number of track shoes (each side)

46

Track length on ground

3655mm

Ground clearance

404mm

Main Technical Specification

Operating weight(without ripper)

24500Kg

Ground pressure(without ripper)

0.0053MPa

Grade ability

58%

Overall dimensions (L×W×H, without ripper)

6220×4382×3482mm

Max. tractive force

280KN

Working Equipment

Blade type

Side-tipping

Width

4382mm

Height

1350mm

Max. digging depth

500mm

Max. lift above ground

1170mm

Tilting angle

9°

Blade capacity

7.4m3

Transmission System

Torque converter

Power separating
hydraulic mechanical type

Transmission assembly

Integrated bevel gear,
multiple stage planetary gear box,
speed changing control valve,

Final drive

Two stage planetary
reduction gear mechanism

Gear shifts(Forward/Reverse)

F3/R3

Travelling speed(km/h)

Forward/Reverse I

3.9/4.8

Forward/Reverse II

6.5/8.2

Forward/Reverse III

10.9/13.2

Main Features

Special elevated sprocket, triangle shaped track

Power separating hydraulic-mechanical torque

converter

Assembly-designed transmission, easy service

and maintenance

Three-stage alarm electron monitor system

Pivot-type articulating system

ROPS cab

Steering Clutch And Brake

Steering clutch

Oil-type, free-adjustment, multiple disc, pressed

hydraulically

Steering brake

Pressed by spring, separated hydraulically,

costant meshed type

Service Capacities

Fuel tank

450L

Water tank

118L

Implement oil tank

100L

Optional

Angle, U-blade

Air conditioner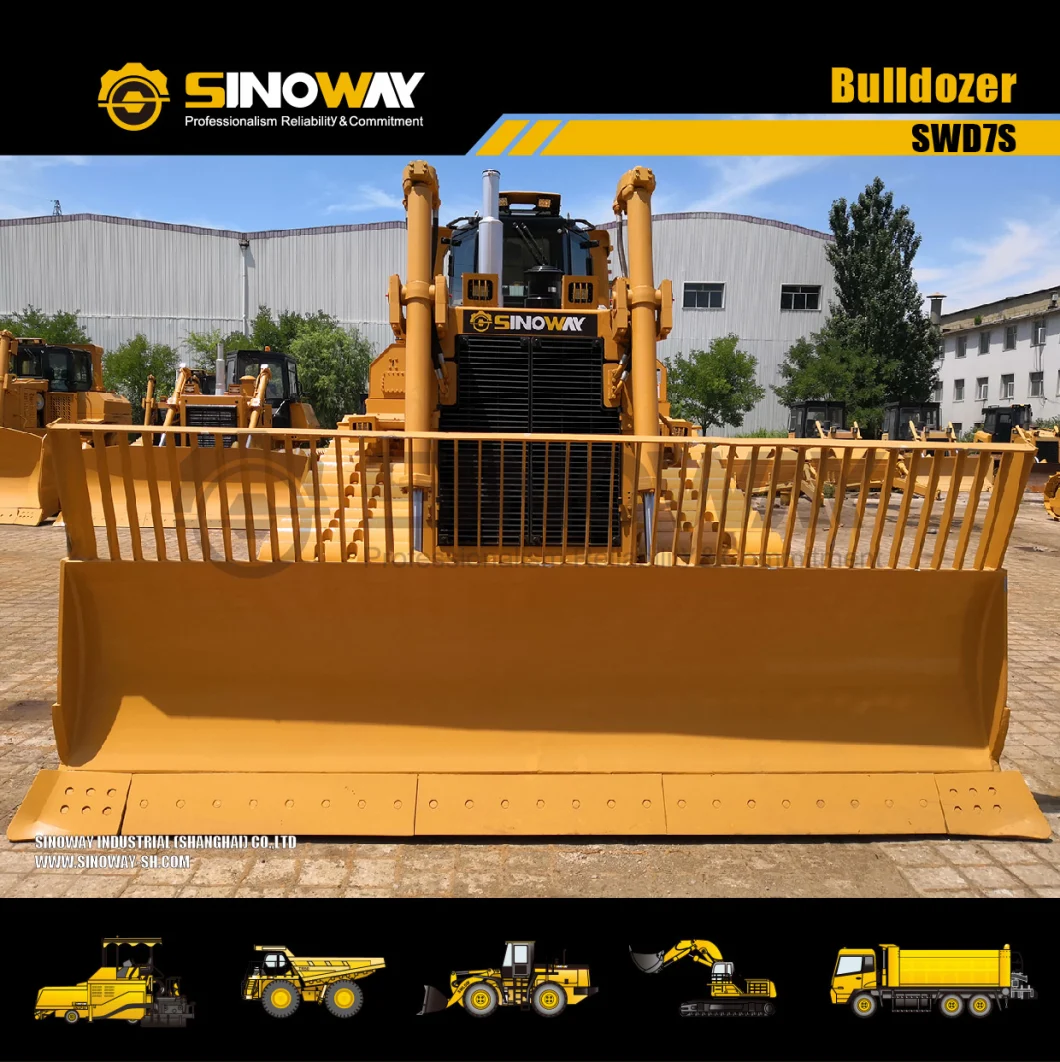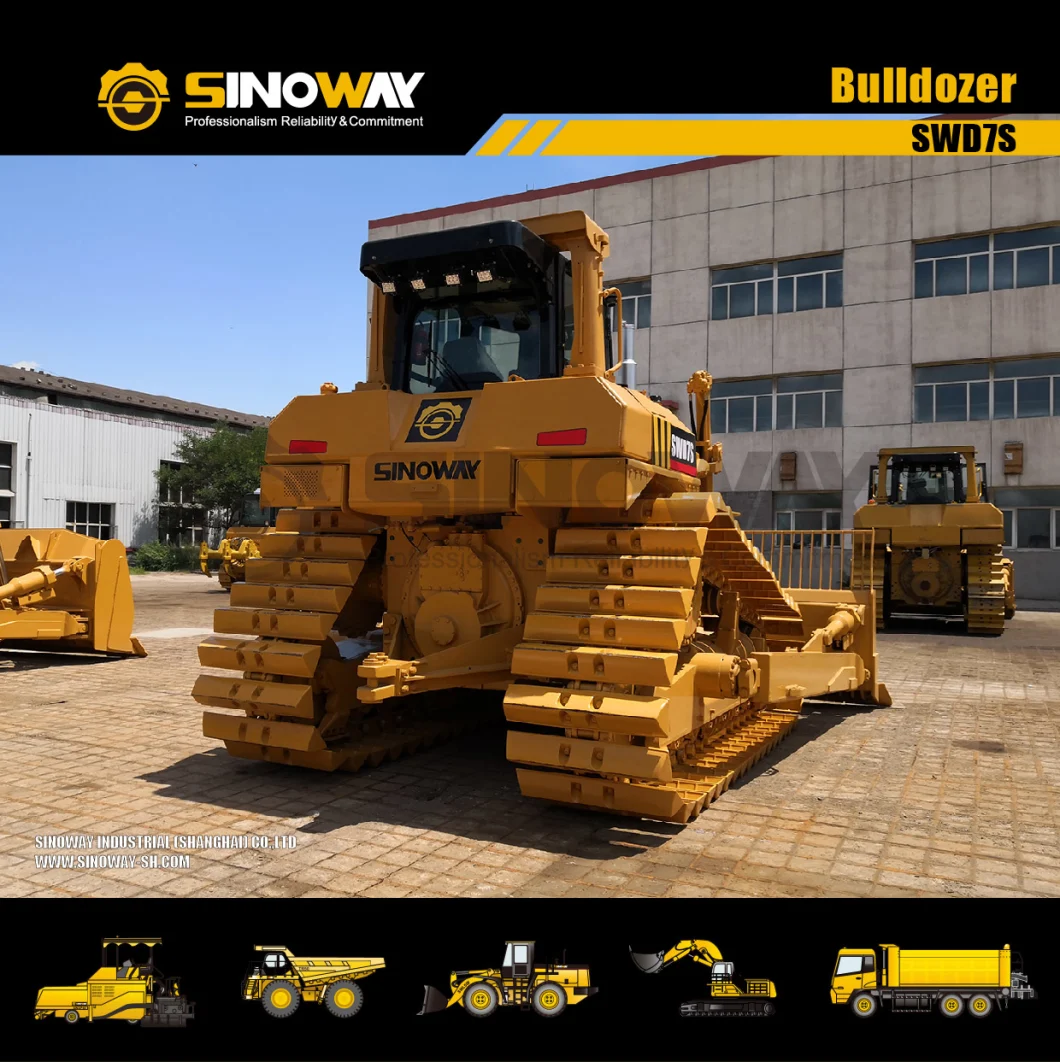 Sinoway treat Service as a significant segment in our value chain. All of our service-related businesses-aftermarket parts, technical support, training, OEM Solutions are based on offering more professional service, extending the life of each machine we delivered.
For special key projects and VIP customers, Sinoway offer on-site field service for a certain period, to allow the team of our users with a better understanding on the operating and maintenance, to help training the service team of their own, or give a proposal on the maintenance solutions according to the special operating environment. With the field service, we are confident to enable our machinery reduce the downtime at maximum and help our clients fulfill the project smoothly and on time.
| | |
| --- | --- |
| Condition | Brand New |
| Warranty | One year or 2000 working hours, whichever comes earlier. |
| Shipment Terms | FOB, CFR, CIF, CIP DAF |
| Company Name | Sinoway Industrial (Shanghai) Co.,Ltd |
| Add | 30 A1, No.58, New Jinqiao Road ,Shanghai, China |
| Tel | +86 21 68598616 |
| Fax | +86 21 50191951 |
| Website | sinoway-sh.en.made-in-china.com |